Tim Klein, 1975-2018
Jason Wells, 1972-2018
(photo: Greg Murphy)
[R&I published an edited version of this remembrance for Tim here. They had to cut half of it for clarity and decency.]
Saying Tim Klein is impactful is like saying LeBron James shoots hoops. It doesn't really capture it.
R&I asked for Tim in 500 words. I suggested instead I show Adam Ondra how to climb hard as that would certainly be easier. I pre-apologized to Tim's indomitable wife, JJ, for short shrifting Tim. "Tim checkmated me on this one. They want Tim in 500-1000 words. Wiggle room for almost one word per profound, life changing impact Tim had on his students."
That you cannot write a remembrance of Tim Klein without not not making it about others, is pure Tim Klein. Tim's fundamental guiding principle was deceptively simple: make others better. Tim viewed the world through a very different prism. Tim was singularly, myopically focused on helping others. It wasn't an aspirational goal. A conceptual ideal. A nice to have. It was organically baked into every fiber of his being.
Tim's climbing partners knew he taught. Tim's students knew he climbed. Neither of us had any idea.
Tim taught for 17 years, the last 11 as co-director of the Health Careers Academy (HCA) in Palmdale High School, 60 miles northeast of LA. Palmdale High is a title 1 school; a diverse, high risk, 70% low income student body. The HCA offers strong vocational training as a gateway into challenging medical careers as well as a strong academic college path. Under Tim and his co-director Angela Hefter's leadership, the academy doubled in size to 400 students with a 100% graduation rate. The HCA is in the top 5% of high school academies, and one of the top 5 medical academies, in California. Tim rewrote curriculum enabling students to receive University of California (UC) and California State University (CSU) credit as well as honors GPA weighing.
Tim's visionary effort, though, was conceiving of an EMT program for high school seniors. A first in the state. With the meticulous tenacity he brought to his audacious climbing, he navigated an impenetrable bureaucracy, winning, through sheer determination, final approval for his EMT program from the school board and county. And he did so by leaving no detail nor contingency unaddressed, not the least of which was funding. Tim wrote a California partnership grant to fund his EMT program and won a lifetime recipient academy grant. One of the last California lifetime grants ever awarded. This lifetime grant provides 30% of the HCA annual funding.
But Tim was not about graduation rates, funding levels, curriculum, college acceptance, and job placements (although he was all that in spades). Tim was about affecting deep, profound, personal change.
Like the young girl who was afraid to admit she dreamed of being a UCLA Bruin. Tim told her she would be a Bruin. One day Tim noticed a subtle change in her. She didn't say anything. But Tim sensed something was wrong. With his trademark big warm smile and soft-spokenness, Tim slowly and gently coaxed it out of her: her mother had been arrested. Tim bailed her mother out of jail. Without Tim bailing out her mother, the young, bright, promising freshmen would have had to drop out of school to care for her younger siblings. She graduated valedictorian. She is a junior mathematician at UCLA.
Or the student who was having seizures. No one would listen to her. Tim did. He told her she could get through it. He was there for her brain surgery. She graduated and now has a career in laboratory science and a family of her own.
Or the young girl who refused to go through her second open heart surgery. She preferred to die at age 15. She had had enough. Tim talked her into enduring another surgery. In a gut wrenching, heartbreaking twist, Tim passed before she woke up in recovery.
Or the 9th grader who was shot in the head. An innocent bystander in a senseless drive-by shooting. She was left in a coma for a month with a 1% chance of survival. She survived, regained her cognitive abilities and was ready to return to school. But she refused. She feared the kids would be mean to her for being in a wheelchair. So Tim being Tim, he held a fundraiser. It was no bake sale! He'd climb the equivalent height of Mount Everest in the gym for his student. He ruthlessly trained for it. All night self-belay sessions at a local crag before racing back in time for the 7:00am school bell. The fundraiser was a success. And, of course, Tim shattered the Guinness Book record by four hours in the process. He climbed 29,029' of the same mind numbing 5.4 in a blistering 9:26:15. Tim won all sorts of awards and recognition for his Everest fundraiser. But what Tim really did, which was his plan all along, was to make the girl a local celebrity. And it was with that new found notoriety that gave his student the confidence to return to school. Last week she went through graduation with her class. She still has work to do for her diploma. But it was important to her to walk through graduation with her classmates. The same classmates she had feared and refused to face had not Tim intervened.
You want Tim in 500 words R&I? Stick it.
You can't even fit Tim's climbs in 500 words.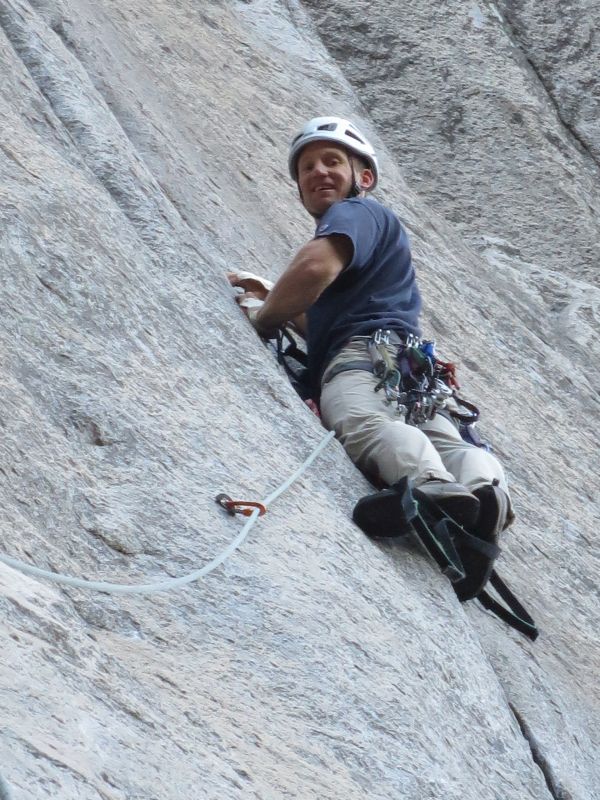 (photo: Greg Murphy)
To reduce Tim's climbing down to a list of ascents would be impossible and irrelevant. Impossible because Tim was incapable of boasting about himself. No one knows all of Tim's climbs. But suppose you could make a list of Tim's climbs. First, you would need a very long piece of paper. Second, you would need a very long and productive climbing career to appreciate the length and difficulty of Tim's climbs. Third, you'd have to suspend disbelief as Tim and his perpetually psyched climbing machine of a partner, Jason Wells, would routinely link multiple of these once-in-a-lifetime-multi-day climbs in a single, casual day.
Tim climbed El Cap 106 times, 75+ of those with Jason. Tim and Jason routinely linked multiple walls in a day; the Nose+Salathe, Nose+Triple Direct, Nose+Lurking Fear, Nose+Nose, Nose+Half Dome, and others I'm sure I don't know about.
(photo: Greg Murphy)
But more importantly, even if you could make a list of Tim's climbs, which you can't, it would be irrelevant. For Tim's climbing, as was his life, was always about others. Helping others reach their goals and ambitions. But mostly his climbing was about friendships.
Tim and Jason were not just a convenient partnership of two monster climbers. Theirs was an inseparable friendship. A friendship which produced, in raw vertical granite miles, the most productive Yosemite partnership ever. A friendship that remade the only legitimate style of rock climbing -- the frenzied weekend warrior thrashing -- into a fine art form. An art form they then took to the next level.
But as in all big wall climbs, and in life, it is the details that inspire.
Details like Tim and Jason's ascents were all in a day so they could get back to their families and careers. Jason would fly from Denver Friday afternoon. Tim would pick Jason up in LA and drive five hours to Yosemite. Arriving late, they'd be up at first light unable to contain their little kid like excitement. They'd whoop and laugh their way up the Big Stone with blazing speed. They'd then turn around and take another lap on Sunday with equal enthusiasm and joy. Jason would then jump behind the wheel taking the first shift from El Cap Meadows to Bridalveil Falls ten minutes away before handing it over to Tim for the final 5hr leg to LA.
Details like Jason flying out to LA to be by Tim's side and keep him climbing with jokes and encouragement for the entire Everest climb-a-thon. Jason supported Tim while Tim supported his student.
Details like how he convinced the frighten 15 year old freshman to want to live and endure her heart surgery. Tim -- a two time teacher of the year winner and last month was named district teacher of the year -- donated $4000 from his overtime pay to his students. Tim offered students $100 scholarships each with a simple but brilliant catch; the money was to be used to help others. So Tim gave money to a senior who wanted to help the young freshman. The senior asked the young freshman's friends what she liked and made a "life basket" of all her favorite goodies. When Tim and the senior delivered the basket, her mother, grandmother, and sisters broke down. The girl, in tears of joy, declared "If somebody I don't know wants me to live, how can I not also fight to live." She had the heart surgery.
Details like Tim, when bailing out the future UCLA mathematician's mom, had a wallet? Who knew? Tim didn't particularly participate in commerce. JJ laughed that she recently took inventory of their furniture and all of it was some sketchy second hand deal Tim mysteriously brought home, no questions asked. Tim had more important things to do with his money. When you're bailing out your valedictorian's mom or giving students money to help other students want to live, paying for, say, entering a national park, or sleeping in a campground, or a morning cup of Ahwahnee coffee isn't a high priority. Tim's primal need to climb, be with his family, and not engage in commerce made for some wildly entertaining Monday morning texts of pure parenting perfection:
"So after getting the family in through the entrance for free, camping in backpackers at no charge, playing card games in the Ahwahnee, and drinking "unlimited" hot chocolate in the morning at no cost...the kid finally breaks down and asks, "I don't know how Yosemite can stay in business when everything is free." Fortunately, there is a teacher in the family and he was quickly instructed to not ask such stupid questions in 5 star hotel. I was still able to sneak in a solo up the South Face of WC after setting them up in the tent at 10PM and waking them up at 6:30AM for a morning hike... good stuff."
Did you catch the part about soloing a multi-day grade VI at night to get back to his family by sunrise? That's why your piece of paper will never be long enough to write down all of Tim's climbs.
But you would never cross Tim! One morning packing up in El Cap Meadows before a climb, Tim mumbled under his breath "No Peet's Yosemite blend." That's what passed for anger with Tim. They changed the blend on the Ahwahnee complimentary morning coffee he had just helped himself to and it really set him off.
Tim was hilariously fun to climb with. But you had to watch what you said. It led to some embarrassing moments until I grasped just how deep Tim's mission to help others permeated his every action.
On a hike out once, I casually mentioned I was turning 54 and wouldn't it be cool to link the 54 pitches of El Cap and Half Dome. It was the harmless banter of a delusional old man. I wasn't sure Tim even heard. 7:00 am the next morning I received a text:
"I checked my calendar. I have an all day conference in Sacramento Saturday that ends at 7pm. I'll drive to the Valley by 11pm. We'll start climbing at 2am. Topout by midnight and run back to the car, start driving by 2am, and get to school by 7am. I might have to skip the shower before class though."
I took a nap after just reading his text. But Tim was dead serious.
Or after our first half dozen trips up the Nose. I realized I always lead the magical Stovelegs so I offered Tim that block. Tim refused. I kept pressing it each ascent. Tim kept cheerfully refusing. He'd just laugh and say he was good jugging [with a way heavier pack than had I been carrying it!]. Finally, after another half dozen ascents, it dawned on me. Doh! It turned out every time I led the Stovelegs I'd excitedly go off on just how perfect the Stovelegs were. Once Tim knew how much joy the Stovelegs gave me, I never stood a chance. Tim would happily insist on doing all the heavy lifting just so his prima donna climbing partner could enjoy the Stovelegs.
Even more than climbing with Tim and Jason, I will savour the silly banter of our group texts. We used to joked that Tim was the only climber who climbed El Cap twice in a day who didn't own a pair of climbing shoes. Or if he did, I never saw them. He didn't need them. Tim was basically one big, tireless muscle. He had his national wrestling champion dad's build. With biceps and thighs the circumference of a gym full of sport climbers' combined. Tim was a prodigy bike racer before an exploding back prematurely ended what surely would have been brilliant professional cycling career. Of course, Tim never complained about his chronic back pain or bemoaned what might have been. Which made this text when Jason and I were bantering about some sport climbing silliness hilarious:
"Can you trad people knock off this bantering back and forth about rope size and tweet something of value? Burning too much finger strength texting while gunning up the send on the double dyno proj in the cave here in D-town LA. Dang skinny jeans are starting to sag under the pressure."
There are many wonderful reasons to want have known Tim, but none funnier than the image of Tim's massive cycling thighs in skinny jeans dynoing in his approach shoes in a gym bouldering cave.
Mostly, though, our texts were about weather. Lousy weather. "70% forecast of freezing rain. That leave 30% of the day to climb El Cap. Cool!" Or when they thought I had climbed with a 50% chance of thunderstorms. "Now the insecurity is starting to sink deep. I thought we were the go-to partners for a Nose in the rain lap?" Of course, I couldn't resist encouraging them in all weather just because they were so much happier the stupider the climbing conditions.
Their love for stupid conditions was problematic though. When Jason met his wife Becky there was a glow in Jason I had never witnessed. Even for Jason, it was an unabashed excitement which, for Jason, is saying something. Jason had that gleam in his eye which meant Becky was about to be very thirsty. I intervened. Or tried to. I was too late. Jason and Tim already had Becky halfway up the West Face of El Cap in the 400 degree direct sun for her first El Cap route. I said Jason and Tim were brilliant climbers. I never claimed they had a clue about courtship.
(photo: Becksta Johnson)
I didn't want to meet Tim's wife JJ although I did very much wanted to meet her. I just so thoroughly enjoyed only 'knowing' JJ through Tim's eyes. We had a lot of silly macho banter on the Big Stone but the sparkle that lit up Tim when he talked about JJ was so touching. To the point that I was eventually like "Dude, 17 years. The honeymoon phase isn't suppose to last that long." But from Tim's quiet infatuation with JJ and JJ's public, proud, unabashed, declaration of her wildness for Tim, it's was clear that Tim and JJ were in no danger of moving past the honeymoon phase.
(photo: JJ Tamura Klein)
Tim was physically unable to boast. But he had one chink in the armor that I loved to poke. His boys. I loved asking about his boys Levi(13), and Jack(10). He wouldn't boast -- he didn't know how -- but he'd light up with a pride that made you happy to be alive. He was so proud of his boys and the young men they are growing into.
(photo: JJ Tamura Klein)
The boys will always have a huge hole in their hearts. We all will. But Tim did not leave the boys impossibly large footsteps to follow. Tim left the boys a bright, clear, unambiguous, morally inspired path to a truly meaningful and impactful life. Tim lived by example. That blinding bright example of doing for others was Tim's greatest gift to the rest us. Tim made us all better people.
word count: 2733. Ha! Take that R&I. Tim Klein will not be constrained! Nor forgotten.