Home / Trip Reports / Family

Players
Anne and Jim styling it with our 1st (of 2) VW vans on its 2nd (of 3) engines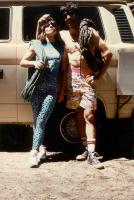 | | | | | |
| --- | --- | --- | --- | --- |
| Anne before... | during and... | | after! | |
Kara, we don't know why we climb but we know why we don't climb enough: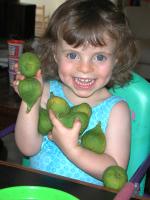 Connor dialing the left AND right shoe beta:

Psycho #1 & Psycho #2 (Peter & Alex): Rumored to have raged for less than 20 hr/day once.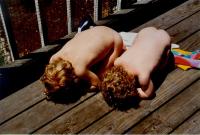 Saint Annie and her three psychos

Jacqueline, Marianna (showing not shown), Hans, Greg T, Peteman, and Annie

Anne & Jim topping out on our
first wall (Washington's Column).
Anne embracing wall food.
Anne after her fill of wall food.
David and Mike demonstrating our detailed knowledge of the Half Dome slab approach. Approached at 11pm with full haul bag including water. Water later found gushing at base. Rough start to a 3.5 day, no food, no water ascent. It was the first and only climb Dave and I have ever started when it wasn't raining.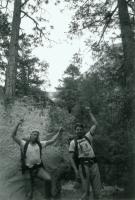 Jim, Chandlee, and Greg having perhaps a limited future as hand models.

John, Kara, Ian and Sidney. John & Sid have not missed a weekend of climbing or skiing since Ian's birth. Never bothered to slow down for Ian's younger sister Elizabeth either. We hate them.

| | | |
| --- | --- | --- |
| Jeff and the babes... | Jeff without the babes... | Jeff and the babe. |
Kara's first dropped headlamp. Remarkably similar expression to her dad's when he dropped his headlamp at dusk, in winter, two pitches from the top of El Cap...

Anne and Jim's first date -- A year long bike tour of Asia (1986). Notice Anne's footware and proximity to the rear spokes. First and last time Anne was assured by Jim's "oh yeah, this is totally safe." Fifteen minutes later we visited Taipei's trauma center to sew up Anne's shredded left foot.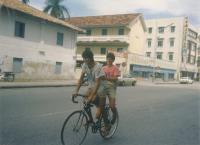 Mike and Jim on our first trip up the Nose (3.5days).

Anne emerging from the Salathe's infamous and wild 'Ear' pitch after a piece pulled and bobbed her on the head.

Jacqueline, Marianna, and Hans

Selene, renowned bay area psychologist with her most baffling case study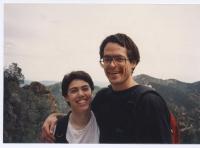 Anne & Jim about to be banned from Arches. (Seriously. Not for the fashion error but for the filming of the Raiders of the lost Arc sequel)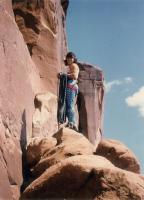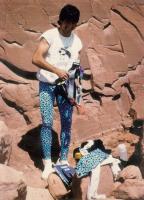 Ann - a gold mine!! -- learning to jummar on the Salathe Headwall. Soon after opted for back to back ACL operations. Valley resume: After Six, Nutcracker, the tip of the Nose, and the Salathe Headwall. Unparalleled generosity of spirit. A unique combination of smart, resourceful, and blissful ignorance. Self-abusive with a short memory for pain -- the perfect big wall partner. Currently is Kara's weekend surrogate dad. Clearly we could not climb without Aunt Ann.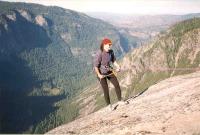 Derek detecting a trend in Jim's climbing plans. Soon after opted to buckly down for the LSATs.

Sam getting his fill of Half Dome. Soon after opted for business school.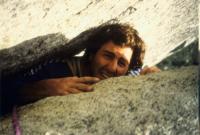 Hristo hanging it out on the Salathe roof. Soon after opted for full time studies.

Konstantin contemplating the Salathe Headwall. Soon after opted to move with no forwarding address.

Allen learning to jummar on the Salathe Headwall. Soon after opted to start a family.

Bill "the EveryReady Bunny" with his son Derek. Bill does more before 9am than I do in a week. Heroically carried the pack up the Salathe. Soon ofter opted to run up just about every 14,000 peak in Colorado.

Bill's typical pre-breakfast rest day activity.

Sarah learning to jummar on the Salathe Headwall. Soon after opted to take up sailing in Colorado.

Adlai practicing to belay the Salathe Headwall. Soon after opted to devote entire summer to family and work.

Dave learning to jummar on the Salathe Headwall. Soon after opted to kayak, start a family, move far far away, whatever.

Wayne contemplates the 2500' exposure on the Salathe Headwall. Soon after opted to have a third child.

Rita schlepping Jim's gear up the East Ledges. Might have complained had she been able to breath. Soon after opted to study photography full time.

Chad heroically hauled the entire Salathe. Soon after opting for some rather intense motorcycle racing.

Justen styling the Salathe Headwall. Soon after opted to really really miss Colorado.

Deb exiting the Salathe. Soon after opted to really really appreciate sport climbing.

Nancy and Clint, my hero, with their children Lance(9), Renata(13), and Skyler(11). Clint's encyclopedic knowledge of the Valley, and most other areas, is as impressive as his diet. Wall food is as decadent as it gets for Clint. Rumored to be sponsored by a can opener company. The beta master worked out the Salathe pitch 19 crux via e-mail from his couch. Very impressive.

Brian and Courtney. Brian's the real deal. Perhaps still the most fit man alive. The original weekend warrior, pulling down hard since 1968. Put in 45 valley weekends/yr for 10yrs before deciding to get serious about climbing and bought a car. One of the few offered a non-disclosure to testdrive Ray Jardine's new fangled Friends. Did my first Nose-in-a-Day with Brian in 23.5hr although we got to do the 32 pitch route in ~40 after we returned to Sickle to pick up the pack that I dropped from up high.

The refreshingly enthusiastic Erika. There's not much suffering you can't talk this wowman into.

Peteman, the "nocturnal specialist"

Peteman, after 40 parch hours on Horse Chute

Greg after Annie requested he take up a hobby other than climbing

Greg like a pig in slop -- 34 degrees and raining wearing t-shirt and shorts and raring to climb.

Hans after the typical pre-climb negotiations with Jim


Hans "the numbers guy"
Total number of climbs with Hans: 3
Total number of pitches climbed: 80
Total number of belay stances shared: 0
Total number of left climbing shoes used: 6
Total number of right climbing shoes used: 5
Anne kicking back on the Salathe's famed El Cap Spire.

Chandlee dangling on El Cap Spire -- the first and only time Chan has ever broken stride on this route.

Greg demonstrating his (pre gri-gri) patented belay technique.

Anne skips the retro bolt on Cowabunga (Tuolumne).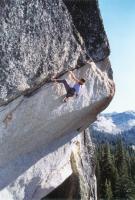 The annual Indian Creek retreat

Aunt Pat and Uncle Ron with Greg, Peter, and Chandlee.

Home / Trip Reports / Family